---

The Daughter of Jairus by Sir John Stainer 28 September 2019 - TWO REMAINING
This is, to our knowledge, the only available recording of this lovely work. The Daughter of Jairus was written for, and first performed at, the Worcester Festival in 1878, pre-dating The Crucifixion by nine years.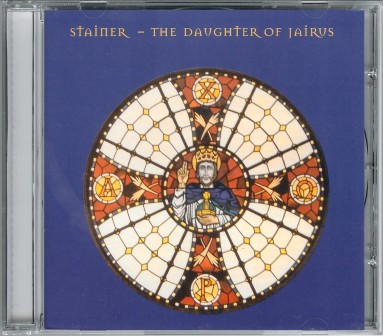 Scored for soprano, tenor and bass soloists, mixed chorus, organ and orchestra, this choral work sits happily alongside Stainer's more famous The Crucifixion, and deserves to be better known, and more frequently performed. It includes the composer's sublime setting for Soprano and Tenor duet of 'Love divine! All loves excelling.' The orchestral parts are Stainer's own, resurrected by Bernard Jupp and Tony Price from an archive in the United States where they had lain neglected for a great many years. The project was supported by John Stainer, the composer's grandson, who provided a perfect copy of his grand-father's own manuscript full score for the occasion.
St. Bartholomew's Orchestra was joined by St. Bartholomew's Polyphony Choir and guests heard as the Stainer Centenary Chorus in a live recording of a concert celebrating Sir John Stainer's Centenary Year in November 2001. The large Victorian church of St. Michael and All Angels in Croydon provided a period setting, with its fine late 19th century four manual Father Willis supplying the organ part. St. Bartholomew's Orchestra and the Stainer Centenary Chorus are joined by Jennifer Johnston soprano, Andrew Johnson tenor, Michael Cowie bass, Tony Price organ, and are conducted by Bernard Jupp.
1 Overture
2 Choral recitative - 'In the day shall the Lord of Hosts'
3 Recitative - 'Behold, there cometh unto Jesus
4 Tenor solo - 'My hope is in the Everlasting'
5 Recitative - 'And when Jesus was come in': Chorus of women - The wailing 'Sweet tender flower'
6 Recitative - 'And when Jesus was come in'
7 Chorus of men - Chorus of unbelievers 'In the death of man'
8 Recitative - 'But when Jesus had put them all out': Chorus 'Awake, thou that sleepest'
9 Soprano and Tenor duet - 'Love Divine! All loves excelling'
10 Trio and Chorus - 'To Him who left his throne on high'
The Crucifixion by Sir John Stainer 16 MAY 2017 SOLD OUT
The composer's most famous, and most loved, work, Stainer's oratorio 'The Crucifixion' was first performed at London's parish church of St. Marylebone on the day after Ash Wednesday, the 24th February, in 1877. Stainer was Organist and Director of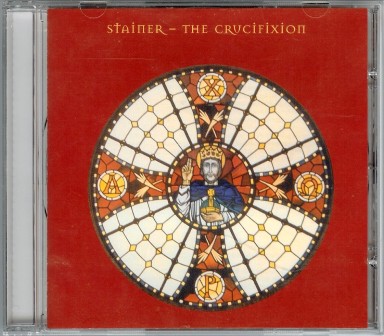 Music at St. Marylebone's, where he had a choir of 60 boys and 40 men. Only two of these were paid, a tenor and a bass, hence the soloists used for this work. Stainer conducted the first performance, and his pupil William Hodge played the organ.
The work is modestly subtitled by the composer as a 'Meditation on the sacred passion of the Holy Redeemer'. Scored for tenor and bass soloists and chorus, it is interspersed with hymns to be sung by the congregation. The words were selected from the New Testament and written by the Reverend J. Sparrow-Simpson.
This recording is unusual, as it is absolutely complete as the composer originally intended. Most commercial recordings seem to make cuts to either the hymns or the organ solo parts, or even to both.
St. Bartholomew's Polyphony Choir is joined by Andrew Johnson tenor, Matthew Price bass, Tony Price organ and is conducted by Bernard Jupp.
1 Recitative - "And they came to place named Gethsemane"
2 Bass and tenor solos and Chorus - The Agony
3 Tenor solo and Chorus - Procession to Calvary
4 Recitative - "And when they were come"
5 Hymn - The mystery of the Divine Humiliation
6 Recitative - "He made Himself of no reputation"
7 Tenor Solo - The majesty of the Divine Humiliation
8 Recitative - "And as Moses lifted up the serpent"
9 Chorus - "God so loved the world"
10 Hymn - Litany of the Passion
11 Recitative - "Jesus said, 'Father, forgive them'"
13 Hymn - The mystery of the Intercession
12 Tenor and Bass Duet - "So Thou liftest Thy divine petition"
14 Recitative - "And one of the malefactors"
15 Hymn - The adoration of the Crucified
16 Recitative - "When Jesus therefore saw His Mother"
17 Recitative - "Is it nothing to you"
18 Chorus - The appeal of the Crucified
19 Recitative and Chorus - "After this, Jesus knowing that all things were now accomplished"
20 Hymn - For the love of Jesus
---
Both CDs feature the fine rose window depicting Christ the King from the west end of St. Bartholomew's Church on their covers. The discs are professionally produced, as are the glossy full colour sleeves and programme notes. They are supplied in full-sized jewel cases.
TO ORDER
ORDERS FROM WITHIN THE UK: The CDs are available for £7.50 each. The price includes postage and packing to a UK address. Cheques drawn on a UK clearing bank in GBP should be made payable to 'St. Bartholomew's Polyphony Choir', and orders directed to:
Tony Price, St. Bartholomew's Church, 159 Ellison Road, Norbury, SW16 5DE. Please remember to include your name and address when ordering!
ORDERS FROM OUTSIDE THE UK: The CDs are available for £7.50 each. The price excludes shipping and packing. We are very happy to post abroad, and ask that overseas customers direct initial enquires to us from the Contacts page.
We regret that we do not have on-line credit card facilities and are only able accept payment from overseas customers made through PayPal - PayPal offers a wholly reliable and totally secure method of on-line payment: all you require is an email address and a bank or credit card account.